Welcome to iPad Lad's page!
Note from DAD: "iPad Lad has been teaching us about the iPad since it arrived. His enthusiasm for technology, coupled with the new arrival of an iPad allowed him to take the leap into high-technology without the constraints of cables and wires. Lucky lad! He's been tweeting regularly since he 'grocked' Twitter from watching me (Dad) start Tweeting in iOS 6. He's already overtaken myself and Mum as far as number of Tweets on Twitter. If you're on Twitter, he'd be delighted with a follow! We appreciate his fresh and exciting look at the world via iPad, and (of course) we both subscribe to the feeds AND mentions (including messages) sent to @theipadlad"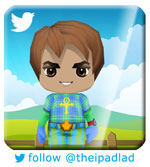 Welcome to My Web Page!
I am @theipadlad and I hope you like the things I recommend.
I am updating my Twitter feed regularly, so feel free to follow me!
I really love using the iPad for everything!
Here are a few of my favourite games: