From the moment I saw the iPad I knew that what I'd waited for since I was eight years old, had finally come. I didn't know the name of it, but I knew that I wanted a device which could give and take the information I wanted, easily, right from my hand. And it's here. It's called iPad.
Being a parent, I know how important it is to learn about new technology and introduce it intelligently into the hands of our children.
My grandpa told me back in the '80's we'd control items on a screen with a pointer while moving a 'mouse' across the tabletop... and now we're way, way past that point in time. No mouse required. No wires. Just an iPad.
Welcome to my 'iPadDad' page! When the iPad first came to Australia, someone in the family was using it for something almost every moment of the day...
"Can I use the iPad...Dad?"

"May I draw on the iPad... Dad?"

"Who's turn is it on the iPad, Dad?"
Here you'll find my favourite apps, reviews and insights and a little bit about what I enjoy most about the iPad. In fact, I'll start there: What I love MOST about the iPad is that it's like a digital swiss-army knife (as in it can do SO MUCH and yet is so thin and light and beautiful!) I've found uses for the iPad I never thought imaginable before I had one... and even after I had one.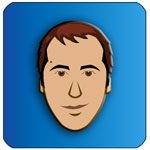 It's the instant availability of the iPad that makes SO many things possible that before would have taken a backpack of single-function devices to achieve the same thing. (ie: compass, GPS, music player, camera).
iPad opens up opportunities that would have been labeled "To Do, Someday!" and allows them happen TODAY.
For instance; I called up my grandfather (age 98) and had him hold the speaker phone up to his cuckoo clock as it struck 'ten'. I recorded it on my iPad, eMailed it to myself and then forwarded it on to others in the family. That cuckoo clock has been running non-stop for over 60 years... almost three full generations have heard that cuckoo... and now a few more generations can enjoy it... on their iPad. All because the ability to record, edit and SHARE happens all in one place, it is now POSSIBLE.
That's what I like - what the iPad makes possible!
Past to Future
As a professional, business owner and educator, the iPad has doubled my business' productivity as well as enhancing my ability to communicate more clearly and effectively. As a FATHER, son, and grandson it has made a huge difference to my personal life. To offer amazing benefits to me as a businessman AND to help bring me CLOSER to my family... what else has EVER been able to do this? TV... computers... phones...
"In the iPad, each of us finds a useful, fun, stimulating, educating tool just for US. How one device can be so much to so many is revolutionary... Watching the iPad transform the lives of those closest to me; seeing our little 3 year old girl animate a movie on her own... to her great-great grandfather who says that the iPad is "The best thing that ever happened. And, the best money I ever spent." Hearing this come from my favourite man, a lad born in 1917 telling me this face-to-face (thanks to FaceTime) within a few minutes of bringing it home. THAT ALONE has for him "opened up an entirely new world. ...that something so ingenious can do this for my grandfather TOO is something I am eternally grateful for.
It has made all the difference in the world. And that's the impact only ONE of Apple's built-in Apps has made. Now that there are four generations of our iPadFamily using the new iPad, it enables us to jointly evaluate so many more!"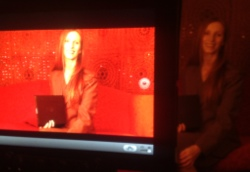 I read a passage from Wikipedia the other day that said, "...[a] university was a place where one could go to get an in depth learning from many disciplines, which would help their chosen discipline in later life." I thought to myself, this is exactly what I am observing with my children and their iPad(s). They are each using theirs as a means to explore and learn a wide range of topics from one location. In fact, so am I, and my wife too. She's been so productive I wish I'd bought HER own one first, many moons ago!!! Seriously, no kidding. And with iOS7, and Siri, she's leapt ahead and is leading iPad productivity for the family...