Why buy an iPad Mini?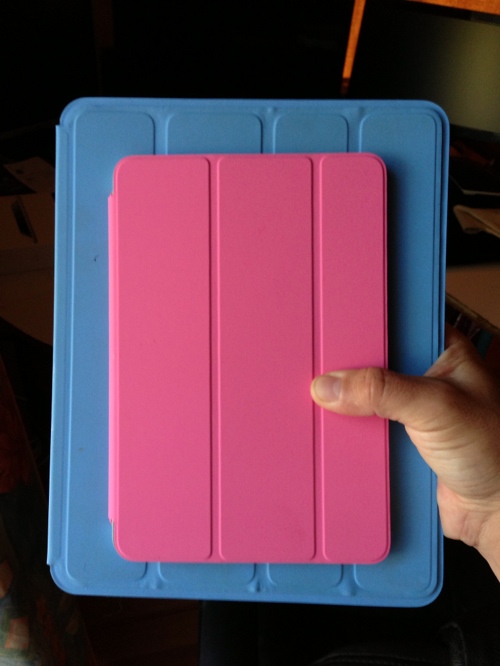 ~ by iPad Dad
We already have five iPad devices in the family. Four iPad 3s, an iPad 1 plus an iPhone 5. We've been using iPad since the moment it arrived in Australia and received our iPad 3 the day they became available, the others quickly followed. We use them for hours every day for dozens of different things.
With all these devices, the big question is...
What do WE need an iPad mini for?
I can answer that now. And the answer is simple.
It's a mini iPad. Mini as in small. I know that seems a bit silly to say, but that's the reason it's so awesome.
It does the same as an iPad, it's sleek like an iPad... is faster than an iPad 3... It's thinner... lighter... but every inch an iPad. Easier to carry, easier to hold...
I'm in love. (Again of course, my love.)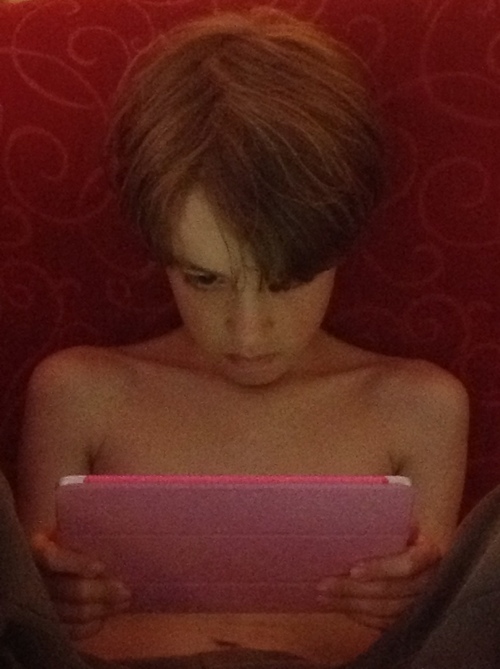 It's much more portable, and since we bought the cellular-enabled version it will be our choice for travelling and keeping in touch with family, as most of the family contacts us via FaceTime nowadays.
The main reason for getting an iPad min is that it's somehow easier to manage than a larger iPad.
What's different between an iPad and an iPad mini?
There are a few differences in the iPad mini that I notice and like about it straight away.
It's thin. I know I mentioned it, but it's worth saying again. My wife uses the word 'slim' and that's probably the best word for it.
Compared to an iPad 3 it's light. It's the difference between an A5 notepad compared to an A4 notepad. It's just as effective, but easier to handle.
Yet, though smaller, is no less stimulating.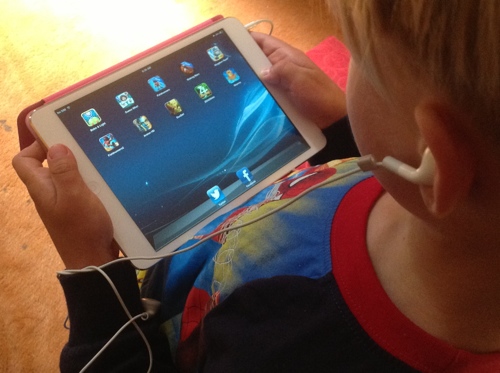 The display is crisp and clear. And as for it being 'mini' after just a few minutes looking at it you forget all about there being any difference in size at all. I also noticed the 'glow' from the screen is significantly less than the iPad. Better for tired eyes or little one's overall screen-exposure, I'm thinking.
The sound quality is great, no notable difference there. It's just as good as the iPad 3's in my opinion, maybe better. It works great with a set of Apple headphones or earbuds. AirPlay to the Apple TV works in just the same way.
It's easier to type when holding horizontally than it's bigger sibling. And, because it's lighter you can hold it for longer. Works instantly with the three Bluetooth Keyboards we use.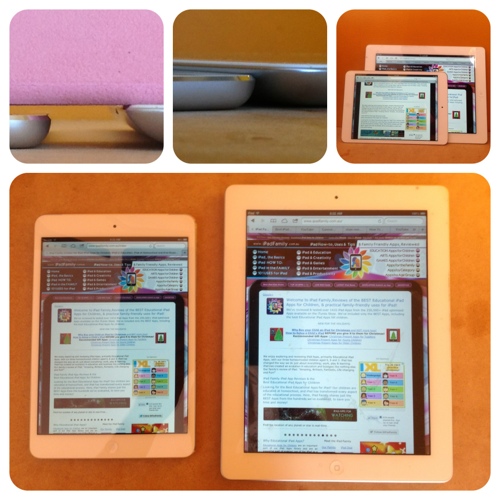 It's fast. Vroom. Tap and it's done. I've tried out several Apps we've used on our iPad 3s and the mini is quicker, sharper, more responsive. I even think the bluetooth keyboard works a little faster on the mini, but I'd need to do a speed test to be sure.
When to choose an iPad mini?
I've found, after just a few days, that I'm choosing the iPad mini to social network (follow us on Facebook) more often than my iPad 3. I also prefer it when listening to music and checking messages.
Mainly because it's easier to hold and more comfortable to type on when holding horizontally.
Our boys choose the iPad mini when playing certain games as they find the controls easier to reach, and the smaller screen seems to make the controls more responsive. (That's all they've tested it out for so far.)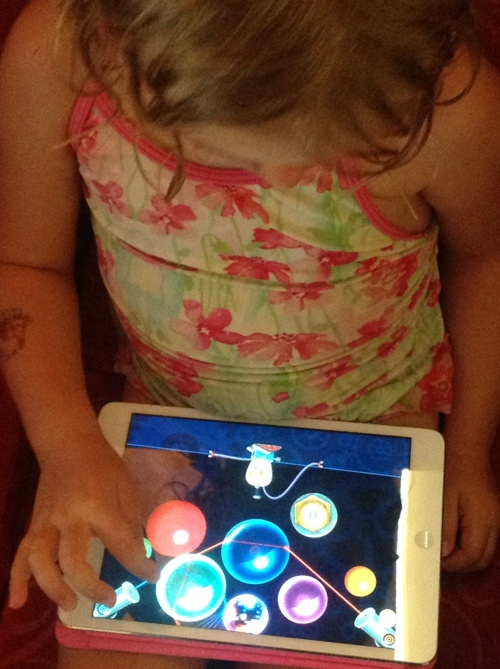 My little girl, 4, just loves it. She thinks it's 'cute' and for the first few days just wanted to hold it and give it an occasional hug.
Mum, I think, will be the main user of the mini. She's been graciously letting us all have our fill of it, but I suspect she'll be using it more often as time goes by. She uses her iPad in the kitchen quite often, and the mini will be less obtrusive than her larger iPad. And, as she said, it can slide easily into a handbag. I'll need to get her a nice case for taking it out and about...
Family's first impressions of the iPad mini:
My boy, age 9: This is after a test-run on the iPad mini playing Zenonia, a game he 'whooped' a little while ago and is familiar with. "It's easier to hold, and my fingers can reach the controls easier, whereas with my iPad, my hands are way out here." He gestures, his arms wide. "This feels more like a game device than a work screen. I have more control, more accuracy with this [iPad mini]".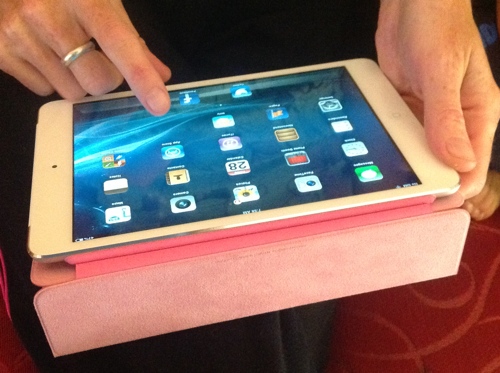 My wife said, "The iPad mini is great for women." I watched her comfortably hold it in one hand. "Good for female fingers. Compared to this, the iPad 3 seems much larger, heavier. With a nice case it would slide right into a handbag or purse." It even looks good when she's holding it. I think it may just end up being hers. :)
*She wants everyone to know that she's not saying the iPad mini is for females. It's great for blokes too, but it's definitely appealing to women and children. She said to be sure people don't assume the mini is for women. I agree, I'm totally loving it and I'm a bloke. It merely feels more delicate, more petite.