Educational iPad Apps for an advanced 5 year old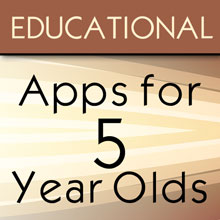 This selection of Apps provides a well rounded basis for your child's educational Apps.
These Apps also utilise the best of the tactile, graphical, touch-and-tap technology of iPad to enhance your child's learning experience.
Special thanks to our Facebook fan who asked for this list of Apps. We hope it assists you both to use the iPad as an educational tool. ~ iPad Mum
To embrace her love of BOOKS I would suggest:
No items found.



To assist with her reading skills I suggest some
SPELLING & READING Apps:
No items found.
If she likes pirates...

To play together...
No items found.



To add to her VOCABULARY and general knowledge I suggest:
If she is interested in SCIENCE:
Bobo explores light is wonderfully informative and educational.
Where's My Water is a challenging game that takes strategic thinking & problem solving to complete the physics-based game.
MATHS:
Mathmateer is great for a young child to explore maths and have fun building rockets!
DRAMA:
IMovie - Choose the Make NEW TRAILER rather than NEW Project and make her the star of the trailer!
For her CREATIVE DEVELOPMENT I suggest:
Scrap Pad, the sticker book for advanced children!
No items found.
Let's Create Pottery... virtual sculpting and aesthetics
Drawing Pad will expand her imagination!
GAMES:
Collision Effect takes focus and strategy, at a fast pace.
Spy Mouse is good game if your little girl is not timid.
No items found.
Chess is also great choice of mind-strategy games.
Levers is a good mind-puzzle which teaches about weights and balance:
I hope you like the suggestions and enjoy the Apps!