Free Review Service for iPad Developers with iPad Apps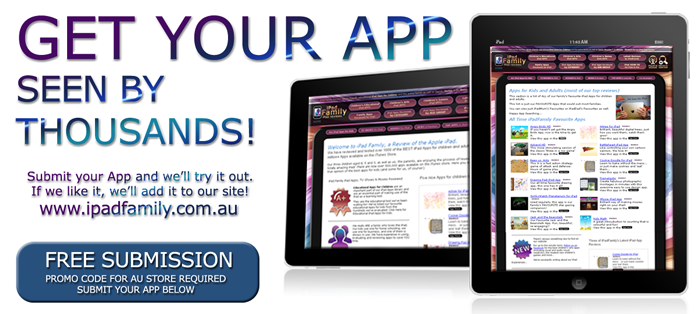 iPad Family offers you the opportunity for App Developers and their Marketing partners to get their App reviewed by a REAL FAMILY of iPad enthusiasts. If we find your App to be family-friendly, and meet our criteria for quality graphics and content, your App will be featured for FREE on our website. We'll outline the educational benefits, inspirational aspects and engaging content of your site to the world!
Along with your Review, your App will be posted onto the www.iPadFamily.com.au website into the appropriate categorie(s) with direct links to the iTunes Store in prominent locations throughout the review so that visitors can purchase and download your App. Of course, you are able to use any parts of our review in your marketing or promotonal activities.
NOT ALL REQUESTS FOR REVIEWS MAKE IT TO OUR WEBSITE.
With 250,000 iPad optimised Apps, we KNOW how hard it is to get noticed. That's a LOT of competition! Especially after you've gone through SO MUCH EFFORT to get your App complete! Apps are thoroughly tested before any reviews are written. We've got NINE family members who each have their own iPad (3), which span from age 3 to age 95. You can guarantee we're going to see how your app fits with all of us. We value QUALITY over QUANTITY, which is probably your approach too given the amount of time you've already put in.
TERMS:
Developers MUST provide a valid Promo Code for us to download the Full Version of the App. We are NOT ABLE TO REVIEW FREE APPS or apps which have in-app-purchases out in the open. We just don't think it's family friendly to have (usually inappropriate) Adverts in educational, creative or gaming Apps, sorry!
If you've got an app with IN APP PURCHASES, make sure you send us whatever we need to FREELY upgrade to your fully-featured version. If you're into what we've said, we encourage you to Submit Your App for Review. We look forward to trying out your app!
~ iPad Family

YOU CAN ALSO ADVERTISE YOUR IPAD APP ON THIS WEBSITE TOO!>>